2021 GOLF MEMBERSHIPS
GOLF MEMBERSHIPS
7 day – Adult
$1,450.00
7 day – Couple
$2,520.00
7 day – Family
$2,845.00
7 Day – 9 holes
$725.00
7 Day – Twilight (after 3 pm)
$950.00
Weekday – Adult
$1,225.00
Weekday – Couple
$2,145.00
Student
(age 17 – 25. Full Student)
$585.00
Junior
(age 11- 16)
$445.00
Family Junior (age 11 to 18 with an adult membership)
$340.00
Additional Junior
(with a Family Membership)
$210.00
Driving Range Membership
$475.00
Optional Add-Ons
Annual Cart Rental $580.00
Couple Annual Cart Rental $970.00
Weekday Individual Cart Rental $415.00
Weekday Couple Cart Rental $695.00
Club Storage and Cleaning $120.00
**Please note, all memberships and passes must be used in the year in which they are purchased**
SPRING 2021 TRIAL MEMBERSHIPS
Pay $250.00 for an unlimited trial membership for the month of May. If you decide to continue your membership after May your $250 payment is subtracted from the membership rate.
YOUR MEMBERSHIP INCLUDES:
Driving Range
Discount on 3, 6 or 12 Month Fitness Memberships
Exclusive 24 hour Online Tee Time Booking ahead of the public
Use of Pull Cart
Member Rates for Events & Programs
Member Specific Programs and Events
Golf Canada Gold Membership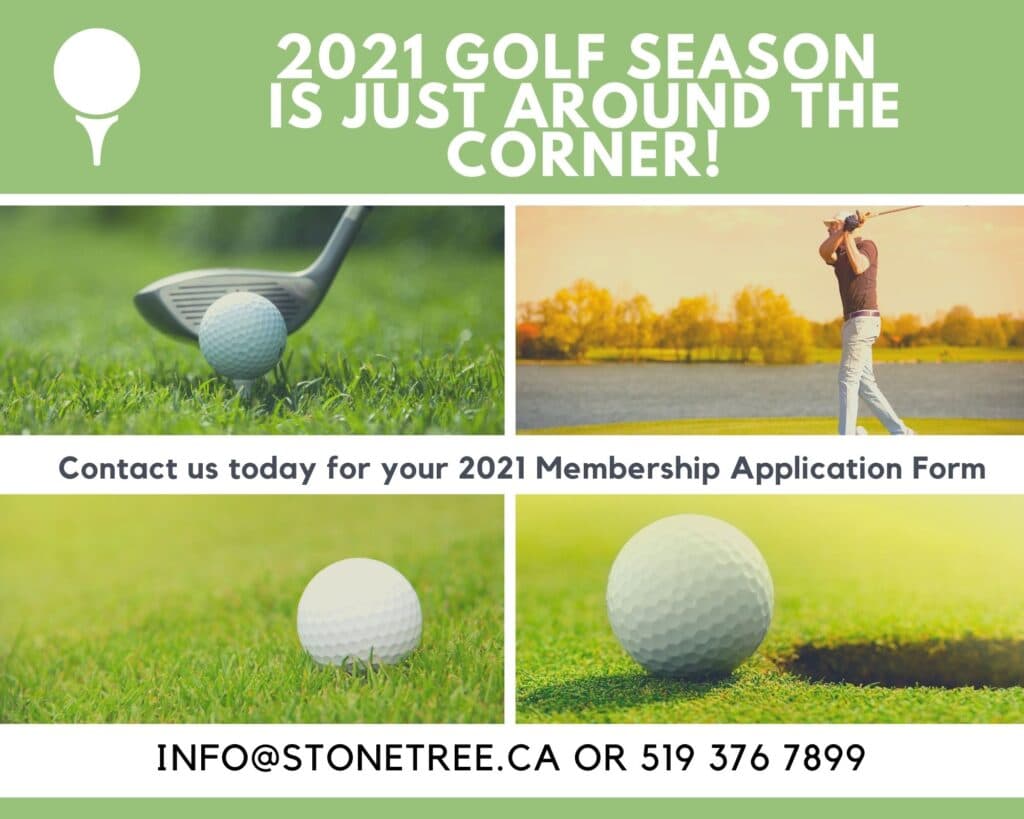 Questions? Please contact our Golf Department: info@stonetree.ca or call 519 376 7899 ext 4.